---
Lilac City Greenway
Potential - Within Rochester
I am writing pursuant to your recent email correspondence with me about prospective Rails to Trails projects in Rochester. We have one long term project which we would like to complete subject to obtaining funding, political support, and additional right-of-way where necessary.
This project - known as the Lilac City Greenway - would involve various segments including:
The abandoned Farmington Branch line extending from its juncture with Wakefield Street outside of downtown Rochester to the Farmington town line ("A" and "B" on colored map)
A segment adjacent to the downtown within the narrow Columbus Avenue right of way ("C" on colored map);
A segment known as the Columbus Avenue Path which is an approved state project to be built 2001 -2, located within the abandoned rail corridor ("D" on the colored map)
A segment in the southerly part of the City which could be located within an abandoned rail corridor that runs parallel to Old Dover Road in proximity to the City's Public Works Garage ("E" on the colored map). This proposal has been controversial due to opposition from abutters. Alternatively, the route could proceed on City streets down Lowell Street and through a residential subdivision (shown as "F" on colored map)
The final segment could be located along one or more of the following: Lowell Street bicycle lane ("G"), Old Dover Road ("H"), Pickering Road ("I"), and/or an abandoned rail corridor portions of which have likely reverted to abutting property owners ("J")
I have also included for your reference a copy of our new draft Transportation Master Plan related to Bicycle use. Please feel free to call me with any questions or comments.

Sincerely

Michael Behrendt, AICP
Chief of Planning

PLANNING AND DEVELOPMENT DEPARTMENT
City Hall - Second Floor
31 Wakefield Street
Rochester, New Hampshire 03867-1917
(603) 335-1338 • Fax (603) 335-7585
E-Mail: director@econ.ci.rochester.nh.us
Web Page: http://www.econ.ci.rochester.nh.us/

[March 26, 2001]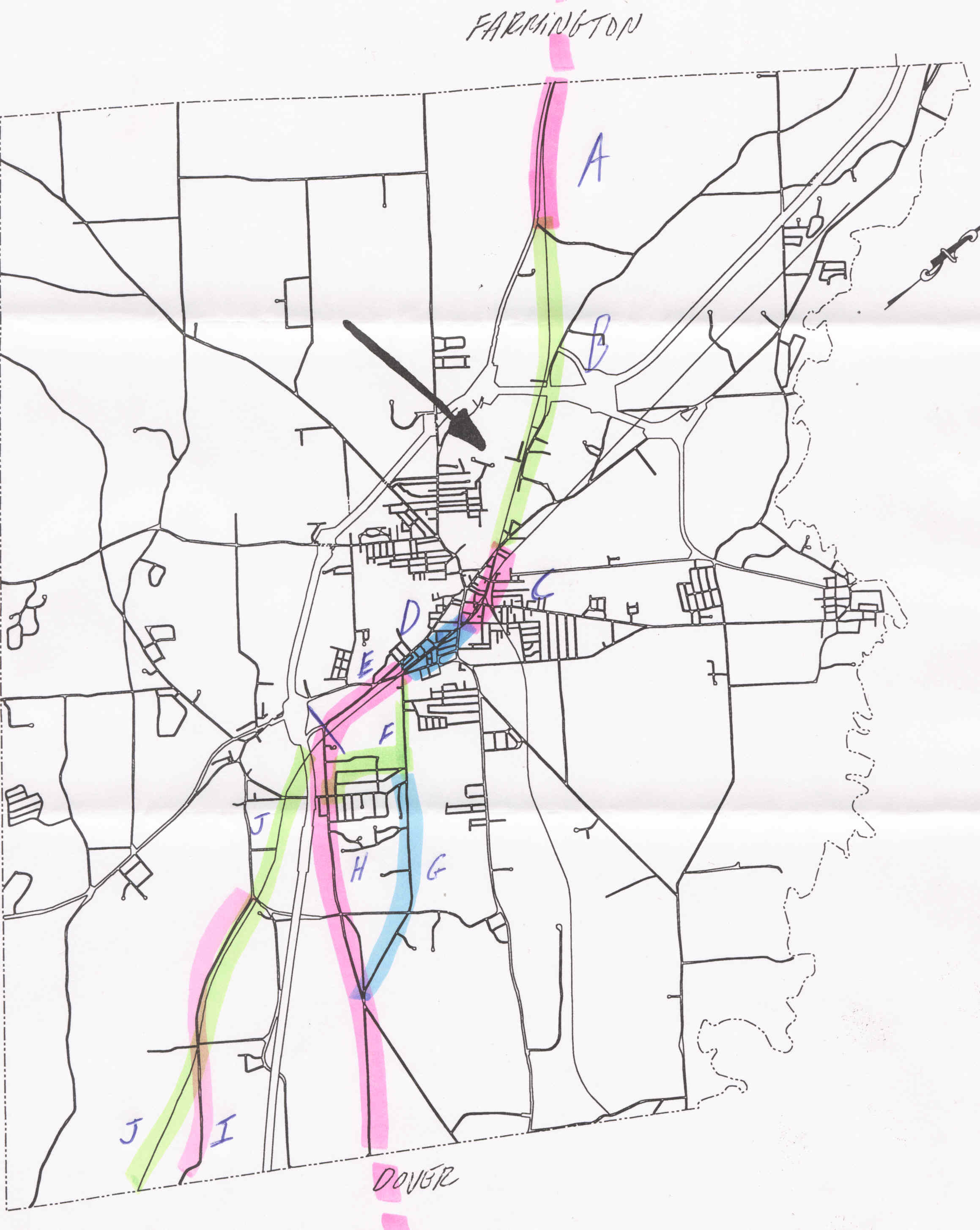 ---
Rochester Master Plan
Bicycle Projects
There are two special projects the City seeks to implement.
Lilac City Greenwav
Parts of this would follow the abandoned railroad corridor on the north side of Rochester known as the Farmington Branch Line. Much of the corridor has already been converted to a gravel way with gates excluding motorized vehicles. It would hopefully continue along the abandoned rail corridor through Farmington to the north. Links need to be created toward the south through downtown and on to the Somersworth and Dover line. See Map - Lilac City Greenway. It includes these sections:
Farmington Branch Line railroad corridor from Farmington line to vicinity of Wakefield Street
Columbus Avenue from Wakefield Street to South Main Street
Columbus Avenue from South Main Street to Upham Street
Gonic Branch Path - Columbus Avenue from Upham Street to Lowell Street (this is currently funded and planned for construction in 2001)
Abandoned corridor from Lowell Street to Old Dover Road (near present trestle). Alternatively, this might go down Lowell Street and through Hemlock/Juniper Streets.
Bike lanes on Old Dover Road from trestle to Somersworth line
Bike lanes on Pickering Road and/or bike paths along the old railroad corridor parallel to Pickering Road (if it could be resurrected),
Spaulding Loop
The City should work with NHDOT to establish a bicycle path within the right-of-way of the Spaulding Turnpike as part of the multi-million dollar Spaulding widening project between Exit 11 and Exit 16. This is a rare opportunity The path could serve both transportation and recreation purposes effectively
• This project might involve filling wetlands but if wetland impact can be minimized or mitigated this issue alone should not scuttle an undertaking with such broad public value. See Map - Spalding Loop.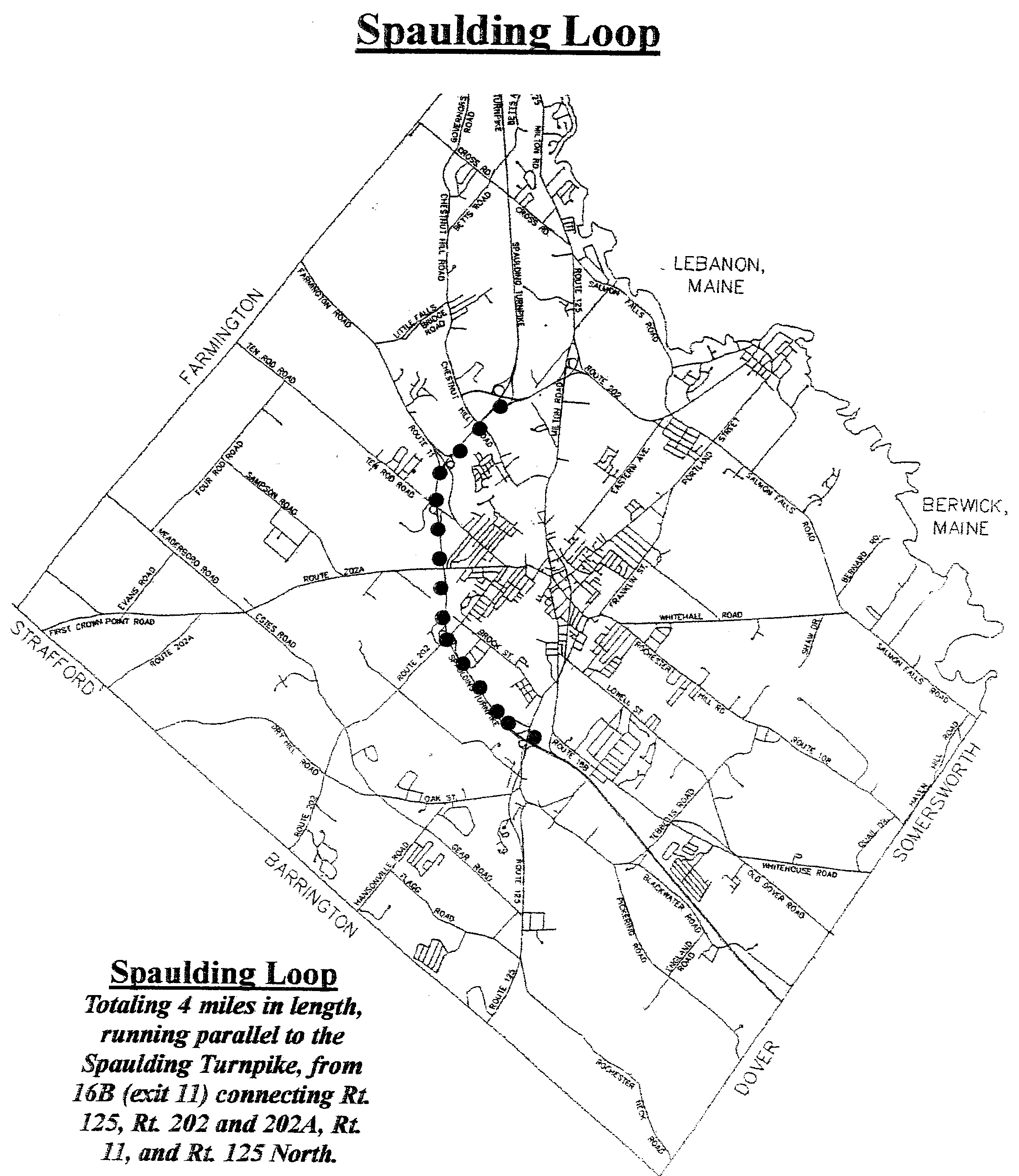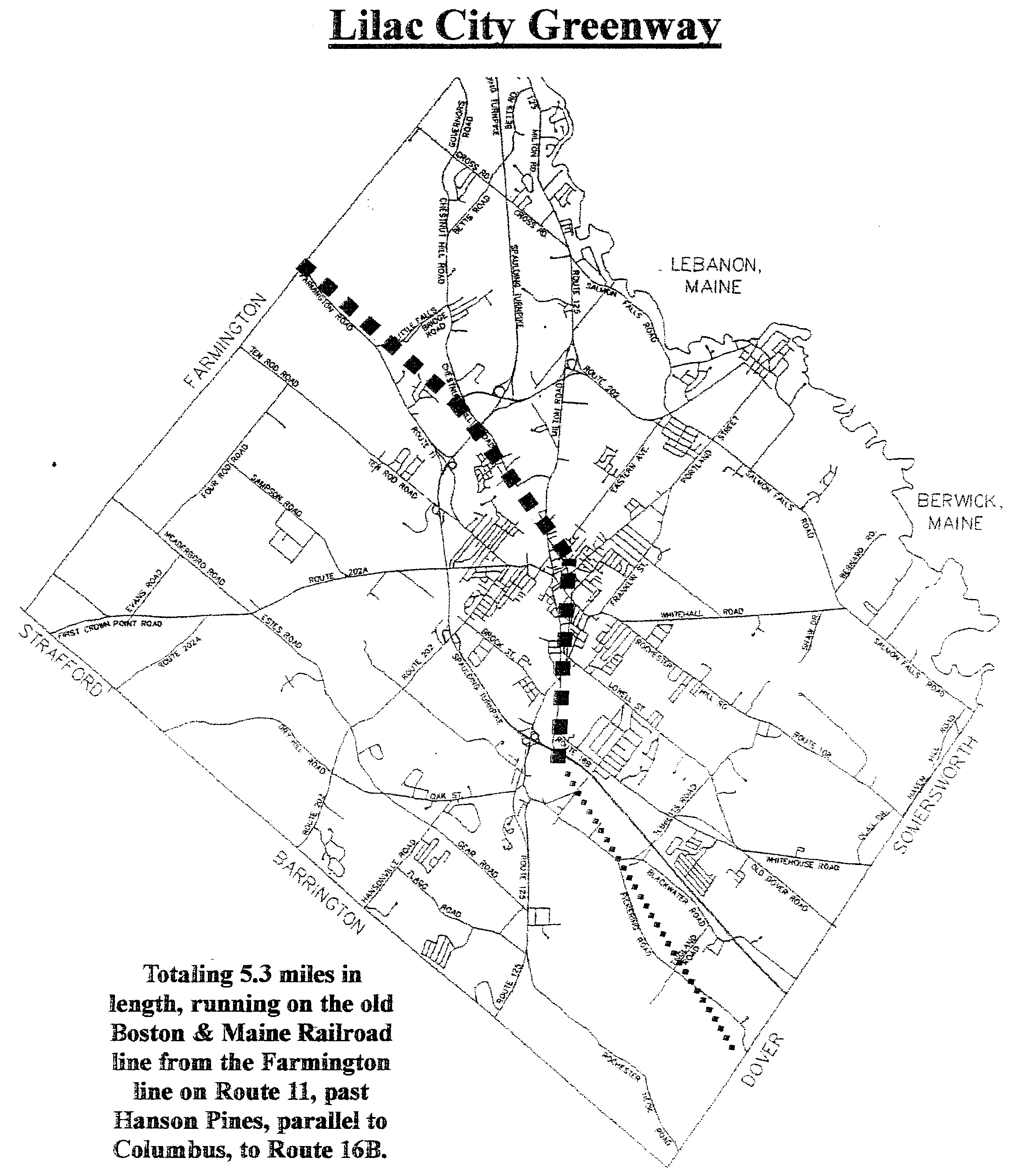 [March 26, 2001]
---
Go to: