Peterborough Bike Route
Within Peterborough - approx .5 mile - Open for public use


The Peterborough Bike Route is a paved bike trail that begins at the north driveway of the Noone Falls Mill (occupied by shops and offices) and runs parallel to the east side of Route 202 to the Grove Street crossing. The topography of the trail strongly suggests that it occupies an abandoned railroad bed despite the location of the railroad track symbol on the west side of the highway in the following location map.
Trail users should be able to thread their way through the parking lot of the Noone Falls Mill to its south end, where they can cross the bridge (closed to vehicle traffic) to the east side of the mill pond.
Brought to you by MapBlast! (Click on map to navigate)
USGS Topo map of Peterborough Bike Path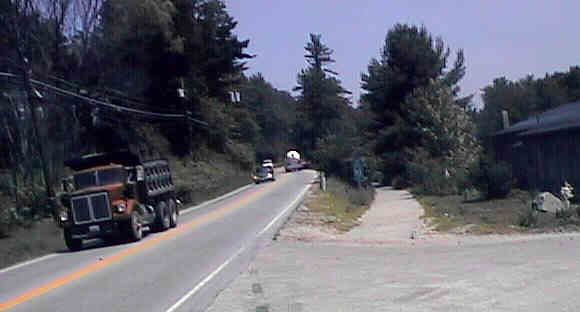 South end of Peterborough Bike Route at Noone Falls Mill. Digital picture by Kenyon F. Karl on July 15, 1998.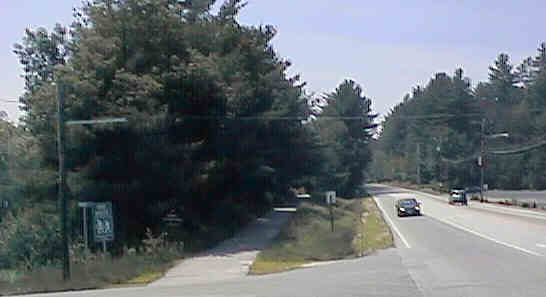 North end of Peterborough Bike Route at Grove Street. Digital picture by Kenyon F. Karl on July 15, 1998.
Railroad Abandonment Summary
| Item | From | To | Year | RR | Miles |
| --- | --- | --- | --- | --- | --- |
| 290 | Jaffrey | Peterborough | 1972 | B&M | 5.5 |
B&M indicates Boston & Maine Railroad
From the "Directory of Rail Abandonments 1848-1994" in the book Lost Railroads of New England, 2nd Ed. by Ronald Dale Karr, published by Branch Line Press in 1996.
1895 County Atlas - showing railroads [very slow loading]:
NH-DOT Planned Rail-trail & Bikeway projects
Name
Route
Number
Description
Years
Cost
$(M)
Jaffrey
RR Corridor
12706
Purchase the abandoned RR corridor from Rindge to Peterboro, Construct Multi-use path [96-66TE]
C1999
.325
Peterboro
Riverwalk
12680
Construct Riverwalk to be used as a multi-use transportation pathway connecting businesses to outlying areas.
C2000
.252
Years: R= Right-of-way acquisition, C=Construction
From the Ten Year Transportation Improvement Program 1999-2008 prepared by the NH Department of Transportation and submitted to the Legislature by the Governor in December of 1997. Unintentional errors are likely!
---
Go to: