Trail Bridge Resources
Trail Bridge Vendors
The following Trail Bridge vendors were found by searching the Web for Trail Bridges. Other vendors may exist both on-line and off-line!
Sahale, LLC specializes in the design, engineering, fabrication, construction and repair of light-duty cable bridges and related structures. Our suspension and cable stay bridges are designed to accommodate every possible recreational user including hikers, equestrians, skiers, and cyclists. Our largest bridges are suitable for light vehicle traffic including snow cats, pickup trucks, and sport utility vehicles and many of our bridges meet ADA accessibility standards.
Picturesque bridges manufactured by Big R are in use at ski areas, resorts, National Parks, and in National Forests throughout the western United States. Big R also fabricates steel truss bridges for use on trails, in parks, golf courses, or in other recreational settings. These attractive structures feature a combination of steel trusses with wood decks or steel trusses with steel forms ready to receive concrete decks. The steel members can be weathering steel or can be painted any color.
Traditional Style Truss Trail Bridge
Covered Recreational Trail Bridge
Traditional Style Stringer Trail Bridge
Long Span Timber Suspension Trail Bridge
Steel Truss Trail Bridge
Our unique, patented beam design produces a rigid, light-weight bridge that is ideal for parks, golf courses and bike trails. Our bridges offer low cost, ease of installation, and great versatility.
In the last 25 years, Echo Bridge Inc. has supplied and installed more than 700 bridges for private and public use. Most of our bridges come pre-assembled for quick and easy installation, and meet state and federal load-carrying requirements.
Includes guidelines for trail bridges.
Incorporated in 1987 and licensed as a California "A" contractor, BELLFREE Contractors has been in the forefront of trail and pedestrian bridge construction for nearly 25 years. Before and since incorporation, the Company has completed over 200 successful projects in 14, states without default, including those listed below.
Company President Roger Bell, formerly a college administrator and faculty member, who holds a Ph.D. from the University of Washington, has been involved in every phase of the work, from pick and shovel, machine operation, structural design and construction, to business operations and finance.
Past president and conference organizer for the Western Trailbuilders Association, he is a frequent speaker to various professional and volunteer abort issues surrounding trail and bridge construction. These include; California Trails Conference, U. S. D. A. Forest Service trail inspector workshops, California Park Rangers Association, Riverside County Trails Conference, National Park and Recreation Society Conference, Rails to Trails workshops, and National Trails Symposium.
TRUSS AND PANEL SYSTEM FOR ACCESS RAMPS, LIGHT BRIDGES, GANGWAYS, BOARDWALKS AND ELEVATED WALKWAYS
As part of a research and demonstration grant from the U.S. Department of Education's National Institute on Disability and Rehabilitation Research (NIDRR), we have developed a high quality, economical access ramp and light bridge system which can be easily manufactured, shipped, assembled, disassembled and reused.
These advantages were achieved with a truss and panel design. A truss design allows long spans without the need for intermediate supports and related support foundations. Trusses also double as ADA compliant hand rails. Structural panels allow the easy installation of high quality travel surfaces that are light, strong and economical with special features such as traction arcs, drainage and structural ribbing molded right in.
YBC is the nation's leader in custom timber bridge design and construction. YBC can custom fit timber structures into any environment while maintaining the highest standards and quality in the industry.
With over 30 years of bridge design experience, Steadfast Bridge Company has designed, fabricated and delivered thousands of bridges, from small pedestrian footbridges to AASHTO specified roadway bridges. Steadfast bridges meet almost any need. The steel truss design provides high strength and longevity compared to other types of bridges. Steadfast bridges are available in a variety of finishes and floor systems. Web site includes a useful catalog of bridge styles.
Western Wood Structures, Inc. designs and supplies vehicular and pedestrian bridge systems that use pressure treated glued laminated timbers (glulam). Clear-span bridges up to 200 feet in length have been designed using engineered glulam.
---
Bailey Bridges
Temporary Bailey Bridges might be considered for use on rail-trails to replace railroad bridges had been removed at the time of railroad abandonment. These bridges are rather ugly but might be accepted by users when publicly described as strictly 'temporary solutions' that will eventually be replaced by a far more graceful bridge that was carefully designed for its location. The fact that all components can be easily removed and economically re-used at another location, as well as the sheer speed with which these bridges can be designed and installed may also affect their acceptance by trail users. Note also that the military manual provides instructions for Bailey Bridge installations where the existing bridge abutments are judged to be unreliable (a very common problem along long abandoned railroad beds).
The fact that a Bailey Bridge can be removed so quickly with minimal financial loss should be important in New Hampshire where all trail improvements on most rail-trails are subject to removal within 90 days to make way for the reconstruction of that railroad line.
Like old railroad bridges, we must explore the possibility that worn out Bailey Bridges might be available from the highway construction industry at scrap metal prices. Such bridges could still be used for rail-trail purposes just because of the very modest weights of trail users. Last but not least, since handing a Bailey Bridge is a crucial military skill for National Guard units, they might be particularly anxious for opportunities to design, dismantle, transport, install, inspect and maintain whatever Bailey Bridges might be needed on rail-trails!
Army Field Manual for the use of Bailey Bridges
Commercial sources of Bailey Bridges
---
Movable Trail Bridge
Perkins Cove in Ogunquit ME contains a footbridge unique in this country that can be opened to allow lobster boats and the like into the harbor. It is even more interesting because it reportedly contains a push button to allow pedestrians to open and close the bridge as required for both pedestrian and boat traffic.
http://wellsmaine.com/scenic/drawbridge.html
http://www.coaststar.com/Archive/1999/Aug19/NewsOgun.htm
http://www.coaststar.com/Archive/1999/Sept2/NewsOgun.htm
---
Published Bridge Studies
The engineering study of the alternatives for replacing the missing Missisquoi River bridge span on the Missisquoi Valley Rail-trail at Sheldon Junction, VT. This study includes the relocation and appropriate modification of a suitable historic highway bridge, a prefabricated multi-modal trail span, and the construction of a new railroad span identical to the existing spans.
---
Orphan Bridges Available
Free Bridge!! 120' long by 29' wide Highway Truss Bridge with open-grid steel roadway deck is available for dismantling and transport to a new site. Funding available (equal to the cost of demolition) to the party(s) interested in moving this to a trail. Send email for more info!

Craig P. Della Penna, New England Representative, Rails-to-Trails Conservancy
P.O. Box 656 Agawam, MA 01001, 413-789-7154 <railtrail@map.com> Craig Della Penna <railtrail@map.com> Tuesday, April 13, 1999 11:59 AM

This 42 foot truss bridge was formerly in use as a automobile bridge in the Otter Brook State Park, but for the past ten years, it has been disassembled and sitting at the edge of some land owned by Mr. Larry Rathburn of Harrisville, New Hampshire. He is looking for $1500.00 for the structure and the new owners will have to make arrangements for transport and re-assembly yourself. Call 603-827-3438 for more information.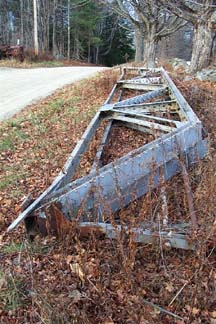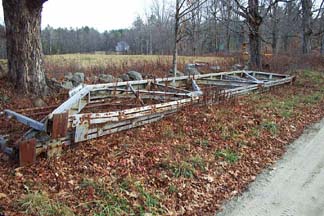 Pictures supplied by Craig P. Della Penna
Craig P. Della Penna New England Representative, Rails-to-Trails Conservancy
2 Washington Square, Suite 200 Union Station, Worcester, MA 01604
Phone: 508-755-3300 Fax: 508-791-9999
Email: rtccraig@transact.org http://www.railtrails.org/newengland/
---
Updated on December 07, 2001 by Kenyon F. Karl <railtrails@crosswinds.net>. Unintentional errors are likely!
Go to: