Lincoln Woods Trail

The current text of the WMNF Lincoln Woods Trail guide as well as the corresponding cross-country ski guide has been posted to the WMNF Web Site to which potential trail users are directed for current information. What follows is merely supplementary information!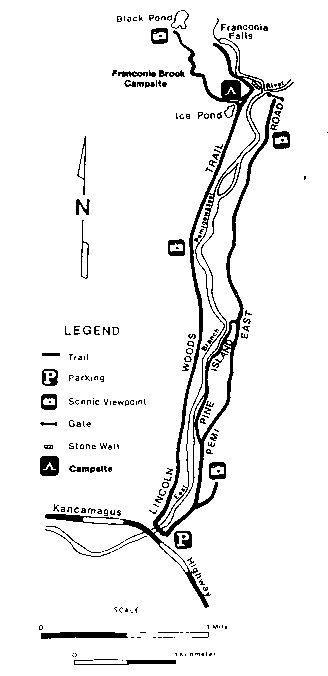 Click on map to see an oversized version. This trail map was copied using OCR software from a Forest Service handout dated 3/95 obtained on June 17, 1997 from the Plymouth, NH ranger station of the White Mountain National Forest. The trail map remains on this page because it is unaccountably missing from the corresponding WMNF Web Page. Unintentional errors are likely!

Note that the East Branch Road follows the east bank of the East Branch of the Pemigewasset River, while Rail-trail follows the west bank of the same river.
USGS Topographic map of Lincoln Woods Trailhead



Ample parking, pit toilets, and a WMNF ranger staffed information desk is available at the Lincoln Woods trailhead. Note that the parking pass program applies to this parking area, with the exception of a designated area with a 15 minute parking limit. Conversely, parking passes can be purchased from the ranger on duty!
---
Return to: