---
Ellsworth to Brewer
&
Downeast Trail
A Proposed Rail-with-Trail
Downeast Trail Coalition
Sally Jacobs <sjacobs@maine.edu>
Maine Department of Transportation
John Balecki, 207-287-6600
Historic Railroad Mileage Charts
Bar Harbor Branch
| Miles* | Station Name |
| --- | --- |
| 0.0 | Bangor |
| 1.2 | Brewer Jct. |
| 6.8 | Fischer's |
| 10.5 | Holden |
| 12.0 | Egerly's Mill |
| 13.0 | McKenzie's |
| 13.8 | Philips Lake |
| 14.3 | Allen Brook |
| 17.3 | Green Lake |
| 19.4 | Nicolin |
| 27.5 | Ellsworth Falls |
| 29.1 | Ellsworth |
| 31.4 | Powder House Pit |
| 31.5 | Washington Jct. |
Calais Branch
Miles**

Station Name

0.0

Washington Jct.

7.8

Eastbrook

9.3
Franklin
12.9
Hanna's
14.9
Schoodic
16.7
Tunk Pond
19.7
Stovers
24.3
Unionville
27.0
Half Way
28.3
Lynch's
28.8
Cherryfield
30.0
Frye's Spur
31.8
Dorman
34.6
Harrington
37.6
Plummer's Spur
38.4
Columbia (Addison)
40.1
Ward's
41.5
Columbia Falls
42.7
Matthew's Spur
43.5
Indian River Tank
45.7
Jonesboro
50.8
Watt's Spur
53.3
Whitneyville
55.8
Hilltop
57.2
Machias
59.6
Machiasport
61.6
East Machias
62.6
Gardner's
63.0
Jacksonville
63.7
Gooch's
63.8
Talbot's
64.0
Jacksonville Camp Gr'd
67.6
McGeorge's
68.5
Ellis'
68.9
Southern Inlet Tank
71.7
Holway's
74.8
Marion
77.1
Allan's Mill
79.1
Dennysville
83.2
Robinson's
85.9
Ayer's Jct.
88.9
Charlotte
94.2
Young's Pit
95.9
Howard Mill Spur
98.9
Meadow's
98.5
St Croix Jct.
99.0
Campbell's
99.9
Milltown
100.5
Milltown Jct
(Salmon Falls)
100.6
Milltown, NB
102.0
Calais
* Railroad miles from Bangor
** Railroad miles from Washington Jct.
Italics indicates stations beyond the end of this trail
Mileage and station names from the Handbook of Officers, Agents, Stations, and Sidings of the Maine Central Railroad, January 1, 1917.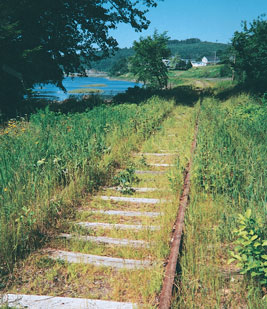 Near Ellsworth. Photo by K. Votava of ECGA.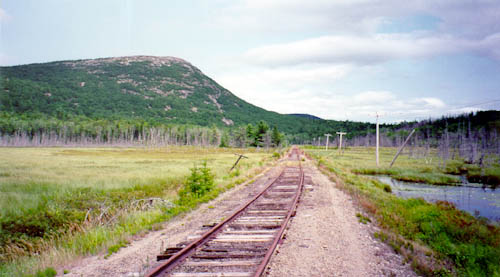 Near Machias. Photo supplied by ECGA.
East Coast Greenway Designation
Note that this Trail will become part of the East Coast Greenway, (ECG) a multi-user trail that will run from Maine to Florida as the 'urban equivalent' to the Appalachian Trail. As such, the entire ECG has been designated as a Millennium Trail.
Status Report to ECGA (2001 State of the Trail Report)
Temporary on-road bike route
The Bike and Pedestrian Section of ME-DOT have prepared temporary on-road bike routes for the East Coast Greenway that also serves the planned rail-trail as follows:
Please Note: To view any of the Bike Tour documents that are linked above, you must have a document viewer that will read PDF files. To get a PDF reader, please click HERE.
Intercity Bus Transportation to the temporary on-road Trail
Ferry Transportation to the temporary on-road Trail
Local Bus Transportation to the temporary on-road Trail
Rizzo Associates evaluated the feasibility of constructing a rail-with-trail project from the beginning of the Calais Branch Railroad in Brewer to the end at St. Croix Junction in Calais. An inventory of key features and characteristics of the railroad corridor was conducted for the 132-mile length of the project. After identifying areas where a rail-with-trail project would be difficult to construct due to land use, topographic or environmental constraints, alternative trail locations and parallel roadway segments were investigated. Please refer to this study for more information about the proposed trail.
Articles in the News:
---
Sign images are from the Manual of Traffic Signs by Richard C. Moeur.
Updated on September 13, 2001 by Kenyon F. Karl <Webmaster@new-england-rail-trails.org>.
Unintentional errors are likely!
Go to:
---
Add Language Translation to your browser from the Babel Fish Tool page from AltaVista: