Claremont Rail-Trail
Rail-trail Under Construction
Claremont Parks and Rec. Dept.
130 Broad St., Claremont, NH 03743
The state of NH, currently the owner, does not consider this trail to be open for use by the public! [Bob Spoerl <b_spoerl@gwsmtp.dred.state.nh.us>]
---
| Miles* | Station | Settlement | Municipality |
| --- | --- | --- | --- |
| --?-- | [East end] | Claremont | Claremont |
| 54.81 | Claremont | Claremont | Claremont |
* = Railroad miles from Concord.
Dark face = telegraph station in 1923
Brought to you by MapBlast! (Click on map to navigate)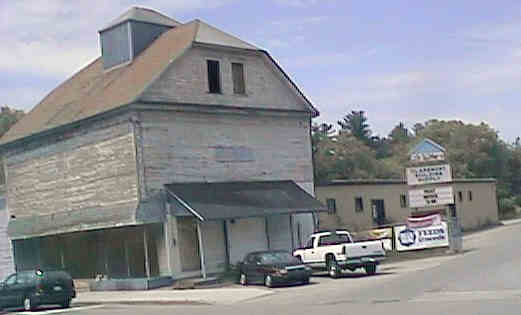 Old building and LaVallee entrance across from West End. Digital photograph by Kenyon F. Karl on June 11, 1998.
The historic Claremont Railroad Station was apparently located at Pleasant Street.
A rail-trail is under construction within Claremont between Pleasant Street and the Railroad Bridge just west of Washington Street. The trail is nicely surfaced with the cinder ballast that was left when the rails and ties were removed. This short rail-trail runs through the center of the city - but nevertheless it is a surprisingly green and natural oasis in the middle of this very urban residential area.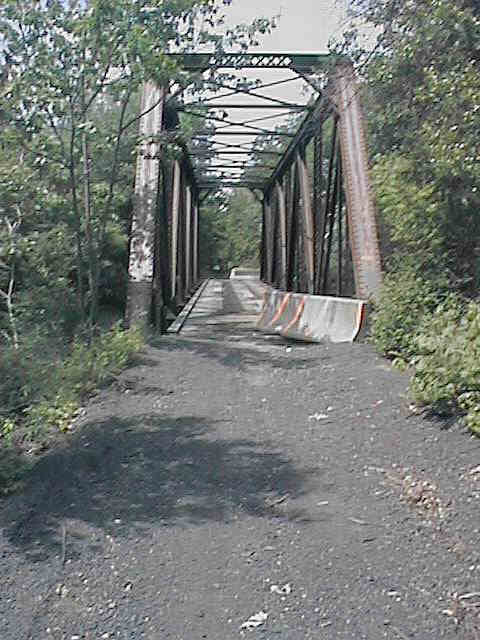 Sugar River Bridge at East End. Digital photograph by Kenyon F. Karl on June 11, 1998.

The Sugar River Bridge must not be used due to the many hazardous gaps between the open railroad ties as well as the complete lack of railings on the bridge!
The railroad bridge must be provided with decking and railings before it is safe for public use. Tragically, the bridge is apparently used on a regular basis despite its very hazardous condition.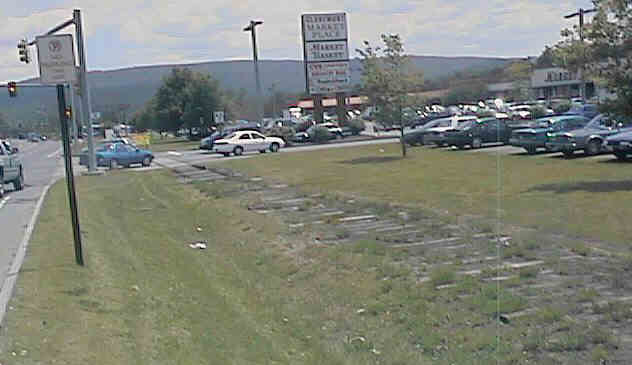 Old Railroad Right of way along Washington St. Digital photograph by Kenyon F. Karl on June 11, 1998.
Land ownership problems may also require resolution resolved along the Washington Street shopping strip. But once these two important problems are resolved, the Claremont Rail-trail will connect directly to the Sugar River Trail that begins just east of this shopping strip!
Washington Street is currently dominated by automobiles to the point that walking and biking in the area is distressingly hazardous. This rail-trail extension must be considered as an inexpensive solution ped/bike safety for the eastern half of the shopping strip as well as a delightful pedestrian/bicycle shortcut between the shopping center and the central area of Claremont. Last but not least, this extension would allow the residents of Claremont to quickly and easily escape to the natural beauty of the Sugar River Trail!
Central Business District Roughly bounded by Crescent, Broad, Pine and Franklin Sts. Claremont Downtown Claremont and Lower Village MRA
Claremont Warehouse No. 34 43 River St. Claremont 02/28/1979 Downtown Claremont and Lower Village MRA
Lower Village District Along Central St. and Main St. on both sides of Sugar River Claremont 02/21/1978 Downtown Claremont and Lower Village MRA
Claremont City Hall Tremont Sq. Claremont
Monadnock Mills Broad, Water, Crescent Sts., and Mill Rd. Claremont
William Rossiter House 11 Mulberry St. Claremont
Railroad Abandonment Summary
Item
From
To
Year
RR
Miles
376
Pleasant St.
(Claremont)
Washington St.
(Claremont)
1988
C&C
1.5
C&C = Claremont & Concord Railroad
From the Directory of Rail Abandonments 1848-1994 in the book Lost Railroads of New England, 2nd Ed. by Ronald Dale Karr, published by Branch Line Press in 1996
1895 County Atlas - showing railroads [very slow loading]:
Federal ISTEA Funding Summary
| Cycle | Project Name | City | Activity | Federal $ | Match $ | Total $ |
| --- | --- | --- | --- | --- | --- | --- |
| 1993 | Acq. of Abandoned RR line | Claremont | Combination | $130,400 | $32,600 | $163,000 |
NH EXECUTIVE COUNCIL ACTION
DEPARTMENT OF TRANSPORTATION Authorized purchase and sale agreement with Claremont Railway Co., Westfield, MA in the amount of $300,000. and further Authorized to accept abandoned railroad property owned by Claremont Railway Co.
---
Go to: