---
Sugar River Trail
Bureau of Trails
Division of Parks & Recreation
NH Dept. of Resources & Econ. Dev.
PO Box 1856, Concord, NH 03302-1856
Phone 603-271-3254 - FAX 603-271-2629
Claremont to Newport, NH

Mileage Chart & Links to Detailed Information
| Miles* | Station | Settlement | Municipality |
| --- | --- | --- | --- |
| 43.10 | Newport | Newport | Newport |
| --?-- | [East end] | Newport | Newport |
| 45.81 | Northville | N Newport | Newport |
| 48.15 | Kellyville | Kellyville | Newport |
| 49.73 | Chandler | Chandler's Mill | Newport |
| --?-- | [West end] | Claremont | Claremont |
| 54.81 | Claremont | Claremont | Claremont |
* = Railroad miles from Concord.
Dark face = telegraph station in 1923
Italic face = beyond limits of current trail
The current Sugar River Trail is 8 miles long, and is open for public use under the administration of the NH Bureau of Trails. Trail bikes and All Terrain Vehicles are permitted on this trail along with a wide variety of other uses.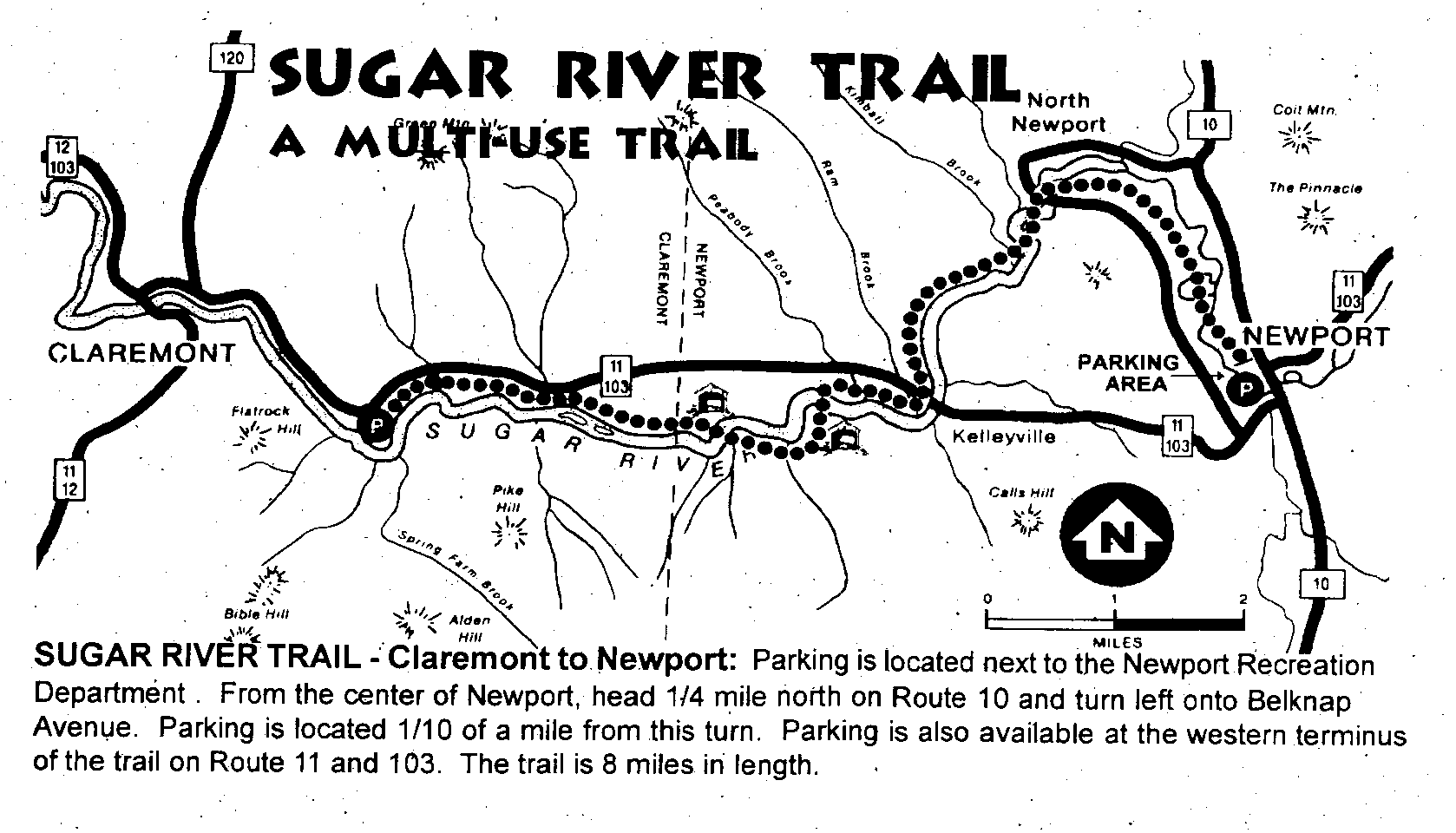 Click on map for oversized image!

This map was scanned on June 17, 1997 from the New Hampshire ATV and Trail Bike Guide (undated).
Books about the Trail:
A 21 mile section of the Rail-trail from Newport (Belknap Ave) to Claremont (end of Washington Street Shopping Malls) is described in section 21 of the Official Rails-to-Trails Conservancy New England Guidebook by Cynthia Mascott published in 2000 by Globe Pequot Press. This trail listing contains a photograph, historical description, trail head directions and parking, a trail map, trail details, a local trail manager contact, and much more.
This trail is described in Great Rail Trails of the Northeast by Craig Della Penna. The information includes a historical background of the trail as well as a detailed description keyed to bicycle odometer readings from the author's in person trip down the trail. This book is out of print, but copies can sometimes be found in bookstores.
Railroad Abandonment Summary
| Item | From | To | Year | RR | Miles |
| --- | --- | --- | --- | --- | --- |
| 316 | Claremont (Washington St.) | Newport | 1977 | C&C | 11 |
C&C = Claremont & Concord Railroad
From the Directory of Rail Abandonments 1848-1994 in the book Lost Railroads of New England, 2nd Ed. by Ronald Dale Karr, published by Branch Line Press in 1996
1895 County Atlas - showing railroads [very slow loading]:
---
Go to:
---
Free Web Space provided by:
Add Language Translation to your browser from the Babel Fish Tool page from AltaVista: