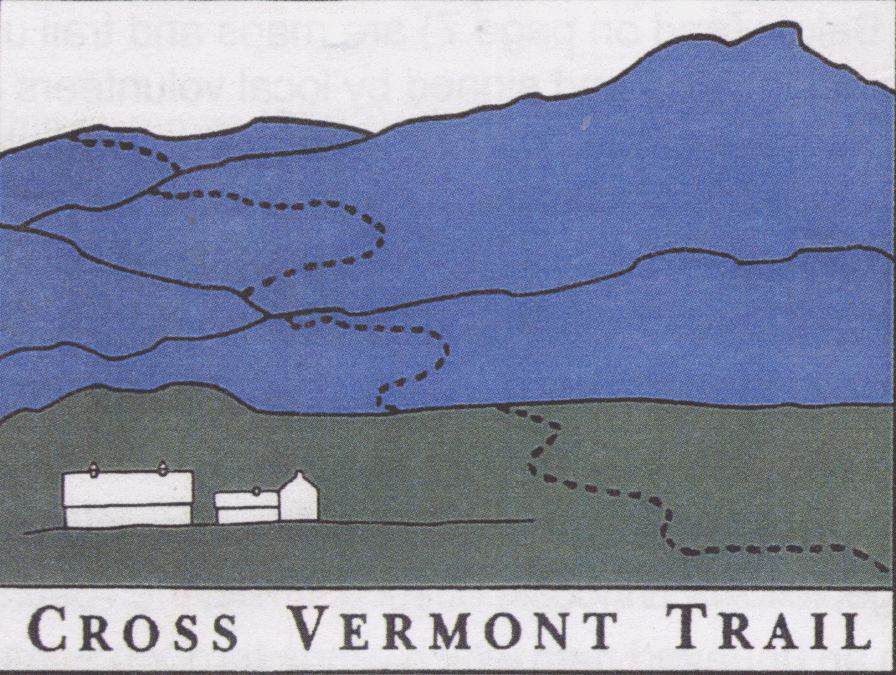 Cross Vermont Trail Association
81 East Hill Road, Plainfield, VT 05667
The CVT is proposed to be Vermont's first east-west, long-distance, multi-use trail spanning 75 miles from the Connecticut River in Wells River to Lake Champlain in Burlington:
As much as possible, the trail would provide a safe and scenic link between village centers, public places, schools and playgrounds, and state parks. It would be created in privately owned areas only with the consent of property owners and the towns it crosses.
The Webmaster clearly supports the entire Cross Vermont Trail. But just because of its focus on Rail-trails, the Webmaster will necessarily focus attention on the rail-trail section east of Montpelier!
Portions of the following chart has been copied from a historic railroad mileage chart. As such, this chart covers only the proposed rail-trail section west of Montpelier and will be accurate only to the degree that the Cross Vermont Trail finally uses the historic railroad bed.
Mileage is via historic railroad bed from Montpelier.
Bold Face indicates Telegraph Station in 1923
Italics indicates proposed sections of the CVT
Links to more detailed trail information are underlined!
Official CVT Newsletter
Potential Connecting Rail-trails:
Railroad Abandonment Summary
| Item | From | To | Year | RR | Miles |
| --- | --- | --- | --- | --- | --- |
| 208 | Montpelier | Wells River | 1956 | Barre & Chelsea RR | 37.9 |
From the Directory of Rail Abandonments 1848-1994 in the book Lost Railroads of New England, 2nd Ed. by Ronald Dale Karr, published by Branch Line Press in 1996
The book Great Rail Trails of the Northeast by Craig Della Penna states that the entire railroad bed east of Montpelier was sold to the Vermont Parks & Forests Department in 1957 who in turn transferred large sections of the line east of Rickers to the Highway Department for realignment of Route 302.
Public Transportation
Amtrak provides daily rail passenger service to White River Junction and Montpelier Junction aboard the Vermonter. Note that this train accommodates unboxed bicycles by advance reservation at all stops except Claremont. Amtrak schedules in the traditional format are available on the DVARP Web Site.
Vermont Transit (Greyhound) provides intercity bus service on a daily basis to Wells River and Montpelier (#1987). Note that bikes are accommodated in boxes aboard Vermont Transit busses as part of the passenger baggage allowance.
Stagecoach Transportation Services provides rural bus service on a scheduled basis from downtown Wells River to White River Junction on weekdays rush direction only. Trail users must inquire whether bikes can be transported in the wheelchair area of the bus when it is not otherwise occupied!
1895 County Atlas - showing railroads [very slow loading]:
Books about the trail:
A 14.5 mile section of the Trail from Rickers to Plainfield is described in section 32 of the Official Rails-to-Trails Conservancy New England Guidebook by Cynthia Mascott published in 2000 by Globe Pequot Press. This trail listing contains a photograph, historical description, trail head directions and parking, a trail map, trail details, a local trail manager contact, and much more.
The section of the trail within Groton State Forest (Montpelier & Wells River Trail) is described in Great Rail Trails of the Northeast by Craig Della Penna. The information includes a historical background of the trail as well as a detailed description keyed to bicycle odometer readings from the author's in person trip down the trail. This book is out-of-print, but many bookstores still have copies for sale.
---
Go to:
---
Add Language Translation to your browser from the Babel Fish Tool page from AltaVista: