---
Wentworth - Warren
Wentworth to Warren, NH
Baker River Valley Snowmobile Club
PO Box 122, Wentworth, NH 03282
603-786-2388

A potential year-around Rail-trail extension
| Miles | Station | Settlement | Municipality |
| --- | --- | --- | --- |
| 66.85 | Wentworth | Wentworth | Wentworth |
| 70.63 | Warren | Warren | Warren |
Railroad Miles from Concord.
Bold face indicates telegraph station in 1923
Italic face indicates point beyond end of rail-trail
This rail-trail is maintained as part of Corridor #5 by the Baker Valley Snowmobile Club whose trails are open only during snowmobile season.
The railroad bed is apparently used as a snowmobile trail between Wentworth and Warren, roughly paralleling East Side Road. The trail apparently begins in the middle of King's Lumber Mill on East Side Road near the Wentworth Common. It ends in Warren just north of the Wentworth Town Line at the point when a relocated section of Route 25 begins to occupy the railroad bed. Note that the Warren to Glencliff trail begins across the highway from this point.
Railroad Abandonment Summary
| Item | From | To | Year | RR | Miles |
| --- | --- | --- | --- | --- | --- |
| 206 | Plymouth | Blackmount | 1954 | B&M | 37 |
B&M = Boston & Maine Railroad
From the "Directory of Rail Abandonments 1848-1994" in the book Lost Railroads of New England, 2nd Ed. by Ronald Dale Karr, published by Branch Line Press in 1996.
1895 County Atlas - showing railroads [very slow loading]:
---
Wentworth
Brought to you by MapBlast! (Click on map to navigate)
USGS Topographic map of Wentworth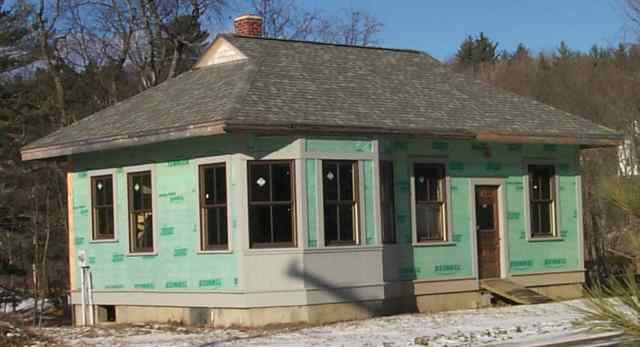 Wentworth Depot at its new location. Digital picture by Kenyon F. Karl on January 8, 2000.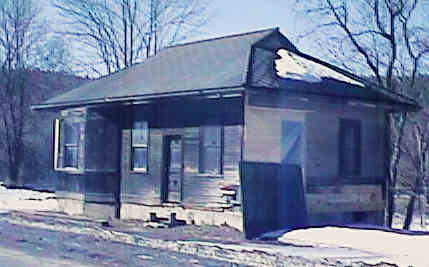 Wentworth Depot at its new location. Digital picture by Kenyon F. Karl on February 28, 1998.
The Wentworth Depot was formerly located on the south side of East Side Road, in the dip in the road just east of the old bridge in what has become an important part of King's Lumber Yard. The depot has since been relocated west of the bridge across the road from the old Town Hall (1899), and is being slowly restored by the volunteers of the Wentworth Historical Society. An ancient truss bridge (1902 ) allows trail users (no vehicles) to cross the river to the very attractive Wentworth Common.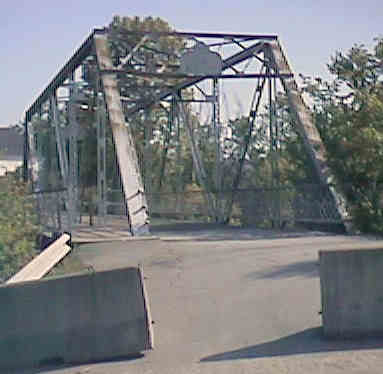 Ancient Truss Bridge to Wentworth Common (closed to vehicles). Digital picture by Kenyon F. Karl on May 27, 1998.

South end (Wentworth) within King's Lumber Mill. Digital picture by Kenyon F. Karl on May 27, 1998.
---

The Wentworth Post Office is located on the Wentworth Common.



Shawnee's (convenience store) is located on Route 25 just south of the end of East Side Road.

An undesignated bike route is available between Warren, Wentworth, and Plymouth over the following roads:
Warren-Wentworth - East Side Road (parallel to the Rail-trail)
Wentworth-Rumney - Buffalo Road
Rumney-Plymouth - Quincy Road
Plymouth - Fairgrounds Road to Route 3 (McDonald's next to the I-93 exit)
---
Warren
Click on the map to browse!
Services in Warren are listed on the Warren page of the Jesse E. Bushaw Memorial Trail.
---
Go to: