Cotton Valley Trail
(Wolfeboro-Sanbornville Recreational Trail)
Honorable Russell Chase Memorial Path
Permitted usage varies from section to section!
Mileage Chart & detailed trail information
* = Railroad Miles from Sanbornville
Dark Face = Telegraph station in 1923
Mileage and Station Names from Official List of Officers, Agents and Stations of the Boston & Maine Railroad, July 1,1923
Each station name in the preceding chart is a link to an individual Web page containing a location map of the station, followed by whatever detailed information and photographs are available that section of the trail. Each Mapblast map is also a link to the Mapblast Web Server that permits extensive browsing among related maps at a wide variety of map scales. Each map also provides access to a Yellow Pages (Business) Directory of the surrounding area.
---
The old Wolfeboro Railroad tracks are now being used as a trail attracting many recreational interests, such as hiking, jogging, bicycles, horseback riding, naturalist or the railcars in the warmer weather and by skis, snowshoes or snow-mobile in the winter. We invite everyone to enjoy the trail, depending on interests, type of travel and skills. Much of the trail may now be visited by following the tracks and also shorter trips may be made by following the highway to other sections.
The 12 mile trail goes from the Wolfeboro Chase Path to the Sanbornville Turntable Park. Along the way look for the many historic railroad sites and wildlife, such as moose, deer, beaver, fox and birds in their habitat plus all types of interesting vegetation.
Many groups have helped in promoting the importance of preserving the tracks into a trail we all can share. This is just a beginning- and there is much more trail work to be done as you will see. So if you are interested in finding more information, volunteering your time or donating, please contact us at Trails Rails Action Committee, P. O. Box 111, Wakefield, N. H: 03872.
The preceding text was copied using OCR software from an undated brochure issued by TRAC. Unintentional errors are likely.
The TRAC Web Page will contain more information and news about this organization!
The Louis Berger Group, Inc. (Berger) in association with Keach, Nordstrom & Associates have been selected by the Town of Wolfboro, NH, to prepare final construction plans and environmental permitting for approximately 2 miles of a multi-use trail, The proposed trail will introduce a multi-modal transportation link from Whitten Neck Road to Route 109 along the existing State owned railroad right-of-way in the Town of Wolfeboro, NH. The trail is the first phase in connecting Wolfeboro, Brookfield, & Wakefield with an alternative thoroughfare for non-motorized transportation. The trail will be constructed with crushed gravel as its main surface, and will have a width of 8 feet. The project will cross over four water bodies; Lake Wentworth, Fernald Brook, Harvey Brook, and Hersey Brook. The Lake Wentworth and Fernald Brook crossings will have the trail constructed between the existing rails to avoid wetland impacts. Harvey Brook and Hersey Brook will be crossed with an expansion of the existing bridges to minimize wetland impacts. Bergerís responsibilities include bridge ratings, bridge design, environmental permitting and coordination, and archeological research.
The preceding text was copied using OCR software from a marketing brochure produced by The Louis Berger Group in May of 2001.
Unintentional errors are likely.
---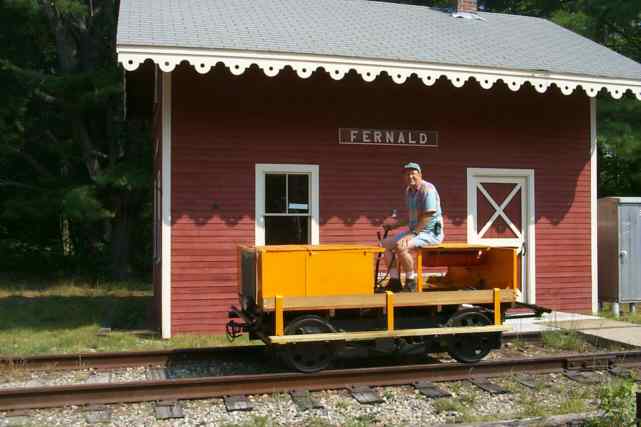 CVRTC member Michael Heaton aboard his newly restored railway maintenance car during its first test run on the Wolfeboro Rail-trail. Digital photograph by Michael Heaton on June 2, 1999.
Privately owned railroad motor cars registered as NH Off Highway Recreation Vehicles (OHRV) may use the track whenever desired between the Route 16 crossing NW of Sanbornville and Wolfeboro Falls. Note however that operation southeast of Fernald requires the presence of two or more people to flag the road crossings and push the cars across the asphalt or gravel that covers the rails!
The CVRTC is an organization of privately owned railway motor car operators that use the rails of the Wolfeboro Rail-trail. As such, the club is responsible for the warm-weather maintenance of the track and right-of-way for the roughly 10 mile section of the Rail Trail that their members use on a regular basis.
Information about the Seven Lakes Snowmobile Club is available at their Web Site. Their trail map shows that the Rail-trail is used for snowmobile purposes between Sanbornville and Wolfeboro Falls. This map also shows other snowmobile trails in the area.
The text of a leaflet published for distribution to the passengers of the tourist train operated by the Wolfeboro Railroad until 1985. The railroad has not operated since that date, thus numerous statements made in this text are no longer true!
Books about the Trail:
A 12 mile section of the Rail-trail from Bennington to Hillsborough is briefly described in section M of the Official Rails-to-Trails Conservancy New England Guidebook by Cynthia Mascott published in 2000 by Globe Pequot Press.
This trail is described in Great Rail Trails of the Northeast by Craig Della Penna. The information includes a historical background of the trail as well as a detailed description keyed to bicycle odometer readings from the author's in person trip down the trail. This book is out of print but copies can still be found in some bookstores.

Wolfeboro Online is an Web Guide to all kinds of information about Wolfeboro, NH.
Railroad Abandonment Summary
| Item | From | To | Year | RR | Miles |
| --- | --- | --- | --- | --- | --- |
| 372 | Sanbornville | Wolfeboro | 1986 | WOLF | 12 |
WOLF = Wolfeboro Railroad
From the "Directory of Rail Abandonments 1848-1994" in the book Lost Railroads of New England, 2nd Ed. by Ronald Dale Karr, published by Branch Line Press in 1996.
1895 County Atlas - showing railroads [very slow loading]:
Federal Funding Summary
Project Name
Year
City
County
Federal $
Local $
Total $
Rail-Trail in Wakefield, Brookfield & Wolfeboro
1998
Wolfeboro
Carroll
$208,000
$52,000
$260,000
Wolfeboro - Sanbornville rail-trail, Ph.II
2000
WOLFEBORO-
BROOKFIELD
N/A
$250,000
$62,500
$312,500
This list is drawn on April 8, 2000 from a database maintained by the National Transportation Enhancements Clearinghouse. Direct questions to NTEC at 1-888-388-NTEC or by email to ntec@transact.org.
---
Go to: