---
Rockingham Recreational Trail
NH Dept. of Resources & Econ. Dev.
Div. Of Parks and Recreation
PO Box 1856, Concord, NH 03302-1856
Phone 603-271-3254 - FAX 603-271-2629
Local coordination provided by:
Rockingham Recreational Trail Association,
Chair, Eathan Howard,
C/O Manchester Water Works,
1581 Lake Shore Rd, Manchester NH 03109
Phone: 603-624-6482

8.24 miles - open for public use
Windham Depot to Fremont Depot

18 miles - open for public use
* Railroad Miles from South Lawrence
** Railroad Miles from Worcester
Dark face = telegraph station in 1923
---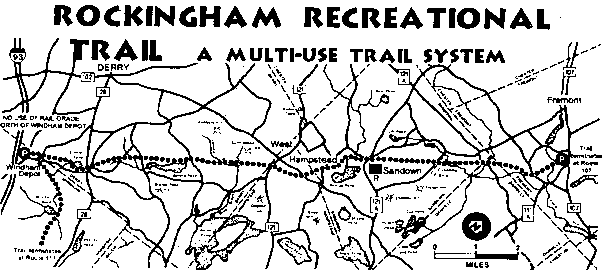 Click on map to view oversized image!

Parking is located on Windham Depot Road approximately 1 1/2 miles west of Derry on Route 28. The "Carriage and Lantern" antique shop is the landmark to look for at the junction of Windham Depot Road and Route 28. Parking is also available at the northeastern end of the trail adjacent to Route 107 in Fremont. The trail is 18 miles in length.

This ATV-Trail bike area is a multi-use area. Mountain bikers, equestrians and other trail users may be encountered on this trail!

The preceeding text was copied on June 17, 1997 from the New Hampshire ATV and Trail Bike Guide (undated) using OCR software. The map was scanned from the same document. Unintentional errors are likely.
---
Printed Information about the trail
This trail is described in Great Rail Trails of the Northeast by Craig Della Penna. The information includes a historical background of the trail as well as a detailed description keyed to bicycle odometer readings from the author's in person trip down the trail.
Railroad Abandonment Summary
| Item | From | To | Year | RR | Miles |
| --- | --- | --- | --- | --- | --- |
| 85 | Hudson | Fremont | 1935 | B&M | 20.6 |
| 352 | Salem | Derry | 1983 | B&M | 9 |
B&M = Boston & Maine Railroad
From the "Directory of Rail Abandonments 1848-1994" in the book by Ronald Dale Karr Lost Railroads of New England, 2nd Ed., published by Branch Line Press in 1996.
1895 County Atlas - showing railroads [very slow loading]:
---
Sign images are from the Manual of Traffic Signs by Richard C. Moeur.
Updated on February 19, 2001 by Kenyon F. Karl <Webmaster@new-england-rail-trails.org>.
Unintentional errors are likely
Go to:
---
Free Web Space provided by:
Add Language Translation to your browser from the Babel Fish Tool page from AltaVista: